Rep. Upthegrove Named 'Legislator of Year' By NW Marine Trade Association
Print This Post
On Thursday (Dec. 8), Rep. Dave Upthegrove (D – Des Moines) was honored as 'Legislator of the Year' by the Northwest Marine Trade Association.
The association, which represents 640 small businesses such as boatyard operators, chose Upthegrove in part because of legislation he sponsored last spring, a measure that will phase out copper-based antifouling paints for use on boats and other recreational marine vessels.
"Upthegrove's leadership in helping the measure get through the legislature earned him the award," reads a press release.
In taped acceptance remarks (see video below), Upthegrove praised NMTA for recognizing that, "a healthy Puget Sound has economic value." He noted that the NMTA member businesses employ 28,000 marine workers throughout Washington state, and generate nearly $4 billion in economic activity. Some of that activity takes place right in his South King County district, which includes Puget Sound shoreline communities such as Des Moines, Burien, and Normandy Park.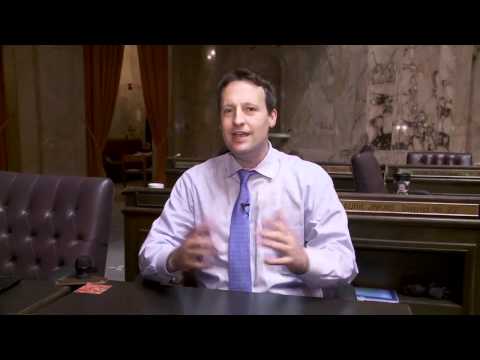 The NMTA was staunchly behind the copper paint phase-out during the 2011 legislative session. While copper-based biocides help keep algae and barnacle growth in check on the undersides of boats, the copper does leach into waterways and poses a threat to salmon and other aquatic life. Boatyards incur high costs and other challenges to clean up copper paint-related pollution from their waters. Shifting to alternative antifouling paints will avoid costly cleanup for these businesses, and improve the overall health of Puget Sound and other waterways.
"This legislation is an example of how the business and environmental communities can come together to advance the best interests of our state," Upthegrove said. "Because of the efforts of the Northwest Marine Trade Association and other groups this year, we are protecting aquatic life and supporting our marine-related businesses at the same time."
Print This Post